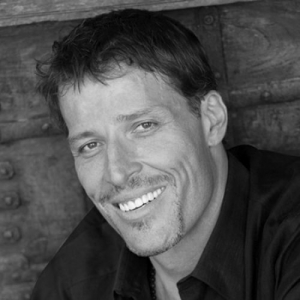 Tony Robbins is a New York Times Number #1 bestselling author, entrepreneur, and philanthropist.
For 38 years, more than 50 million people have enjoyed the warmth, humor, and transformational power of his business and personal development events. He is the nation's #1 life and business strategist.
He's worked with presidents of the United States as well business CEOs. He's helped transform the performance of sports stars, like Wayne Gretzky and Serena Williams, and award-winning actors like Leonardo DiCaprio and Hugh Jackman.
His work has touched the lives of top entertainers — from Aerosmith to Green Day, to Usher and Pitbull. Billionaire business leaders seek his advice as well; casino magnate Steve Wynn, and Salesforce.com founder Marc Benioff are among those grateful for his coaching.
He is a founder, or partner in, more than a dozen companies in industries as diverse as a 5-star Fijian island resort to custom 3D-printed prosthetic limbs.
Through his Foundation and matching funds, he feeds 4 million people per year in 56 countries. He has also initiated programs in more than 1,500 schools, 700 prisons, and 50,000 service organizations and shelters. This year he raised the stakes: In order to honor those who helped his family during tough times, he's personally provided meals for 55 million people, and matching funds to feed 100 million this year alone.
He has been honoured by Accenture as one of the "Top 50 Business Intellectuals in the World" and he has directly impacted the lives of millions people from over 100 countries with his best-selling books, audio products, public speaking engagements, and live events.
For speaker enquiries, contact Front Row Speakers on +353 1 485 3991.