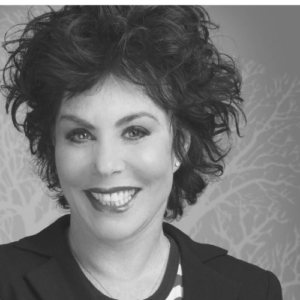 Globally Acclaimed Actress, Comedian, Author and Mental Health Speaker
After arriving in Britain from the United States in 1977 and training as an actress, Ruby Wax began her career with the Royal Shakespeare Company.  She went on to a hugely successful career with BBC television as an interviewer and comedian, and has written, and edited numerous scripts for TV and film including Absolutely Fabulous.  Ruby then turned her attention to the study of psychotherapy and neuroscience, graduating from Oxford University in 2013 with a Master's degree in Mindfulness Based Cognitive Therapy.  She is also an Alumna and Honorary Senior Fellow of Regent's University London's with an MA in Psychotherapy and Counselling, and a is Visiting Professor in the School of Mental Health Nursing at the University of Surrey as well as holding an Honorary Doctorate from the School of Psychology from The University of East London.  She is shortly to be awarded with a City Lit Lifetime Fellowship.
She is the author of 2 best-selling books  Sane New World  and A Mindfulness Guide for the Frazzled which combine neuroscience, mindfulness and comedy.  The hardback copy of A Mindfulness Guide for the Frazzled sold over 100,00 copies and is distributed in over 20 countries.  Her one-woman shows Sane New World and Frazzled have toured both internationally and in London's West End.  She also founded Black Dog Tribe, a social networking site providing information and social support for people suffering with  mental health issues.  She presented her TedTalk at TedGlobal 2012  What's So Funny about Mental Illness?,  She speaks at Parliament and Downing Street to raise money for neuroscience research and works tirelessly to break the stigma.  She is an ambassador for MIND and SANE charities and is on the board of the Anna Freud Centre for Children and Families.  She is also President of Relate.
Ruby is currently launching her Frazzled Cafes in partnership with Marks and Spencer's throughout the UK.  Each Marks and Spencer's will close their cafes for two hours for groups to meet regularly.  These are based on the format of AA, not necessarily for people with mental health problems, but for all those who are feeling frazzled.
Her latest book How to Be Human was published in January 2018.  Written with the help of a monk and a neuroscientist, the book asks the thorny question: in a world that is increasingly online and beholden to technology, what is it that makes us truly human?  The show of the same name will begin touring this autumn.
Ruby also speaks widely to businesses and corporate leaders on how to communicate on a deep and effective level with clients and colleagues, and on how to enjoy good mental health.
Ruby's clients have included Bae, Orange, The Welsh Assembly, KPMG, Skype, eBay, London Business School, Women in Retail, Deutsche Bank, Goldman Sachs, Merrill Lynch, Microsoft, Roffey Park, The Home Office, MI5, Johnson and Johnson Pharmaceuticals, Bayer Pharmaceuticals, GMT Communication Partners, Facebook, The Marketing Society
In 2015 Ruby was awarded an OBE for Services to Mental Health.
For speaker enquiries, contact Pendulum Speaker Bureau on +353 1 685 3370.