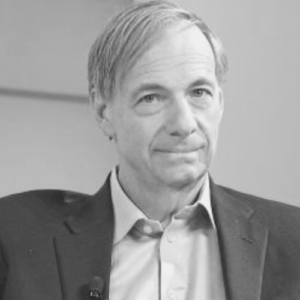 Founder, Chair and Co-Chief Investment Officer of Bridgewater Associates
Ray Dalio is the founder, chair and co-chief investment officer of Bridgewater Associates, a global leader in institutional portfolio management and the largest hedge fund in the world.
Dalio started Bridgewater out of his two-bedroom apartment in New York City in 1975 and has grown it into the fifth most important private company in the U.S. (according to Fortune magazine). Because of the firm's many industry-changing innovations over its 40-year history, he has been called the "Steve Jobs of investing" by aiCIO magazine and named one of TIME magazine's "100 Most Influential People."
Dalio attributes Bridgewater's success to its unique culture. He describes it as "a believability-weighted idea meritocracy" in which the people strive for "meaningful work and meaningful relationships through radical truth and radical transparency." He has explained this approach in his book Principles, which has been downloaded more than three million times and has produced considerable curiosity and controversy.
For speaker enquiries, contact Pendulum Speaker Bureau on +353 1 685 3370.