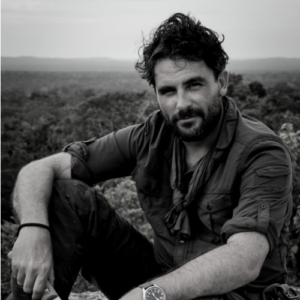 Explorer, Writer & Photographer
Levison Wood is a British explorer, writer and photographer whose work has featured around the world.
From 2013-2014, Lev walked the length of the river Nile – an expedition of 4,250 miles that took nine months and was Channel 4's most successful factual series of the year. His book 'Walking the Nile' became a Sunday Times bestseller. In 2015, Lev walked the length of the Himalayas, a six-month journey of over 1700 miles from Afghanistan to Bhutan, which was televised on Channel 4 as a five part documentary series, airing throughout January 2016. His critically acclaimed book 'Walking The Himalayas' has been published in the UK, US, Canada, South Africa, Australia, New Zealand and India, amongst others, and was voted Adventure Travel Book of the Year at the Edward Stanford Travel Writing Awards. Lev's expedition walking 1800 miles along the length of Central America from Mexico to Colombia, including the notorious Darien Gap, aired as a 4 x 60′ documentary series on Channel 4 in spring '17. Lev's accompanying book 'Walking The Americas' was published by Hodder & Stoughton and went on to become a Sunday Times bestseller. His 25 date theatre tour 'An Evening With Levison Wood' was a national success, playing to audiences of between 600 to 1000 each night. Lev's previous TV series 'From Russia To Iran: Crossing The Wild Frontier' aired on Channel 4 for four weeks in August 2017. His book 'Eastern Horizons' about his travels as a 22 year-old-man hitchhiking the Silk Road was published in November 2017 and was shortlisted for Adventure Travel Book of the Year at the Edward Stanford Travel Writing Awards. His latest expedition was his most ambitious to date – a 5000 mile circumnavigation of the Arabian peninsula from Iraq to Lebanon. His book, Arabia: A Journey Through The Heart of the Middle East was published in November 2018. The documentary series will air on TV this summer.
As a photographer and writer, Wood has contributed to some of the most respected publications in the world including the Times, the Telegraph, the Financial Times, BBC, National Geographic, CNN, Discovery Channel and Condé Nast Traveller. His photography has taken him from the streets of Baghdad in 2003 to the mountains, deserts and jungles of Afghanistan, Syria, Pakistan, Sudan, most of Sub-Saharan Africa, and the Indian subcontinent. His passion for adventure and discovering more about indigenous ways of life has led him mountain climbing in Iraq, horse riding the river Oxus on the Afghan-Tajik border and conducting scientific research in Central Africa for the Natural History Museum. His photographic exhibition 'Visions of Africa' was held in the Royal Opera Arcade on Pall Mall, London, whilst his first solo show 'Ground Truth' was Leica Mayfair's most successful photography exhibition of recent years.
Before his entrance into travel documentary, Levison spent a number of years as an Officer in the British Parachute Regiment, where he served in Afghanistan fighting against Taliban insurgents in Helmand, Kandahar and Zabul in 2008. Levison still serves as a reservist in the British Army in 77X Brigade, and was part of the British troops who recently went on exercise to Japan for the first time in history.
Levison is an elected Fellow of both the Royal Geographical Society and the Explorers Club. He is an ambassador for a number of charities including UNICEF, the Soldiers Charity (Army Benevolent Fund) and Tusk Trust, patron of the AMECA Trust and a keen supporter of the Duke of Edinburgh's Awards.
Levison's themes include:
Adventure
Exploration
Creativity
Leadership
Team Building

Overcoming adversity

Entrepreneurial spirit
Modern Africa
When not abroad Levison lives in London.
For speaker enquiries, contact Pendulum Speaker Bureau on +353 1 685 3370.