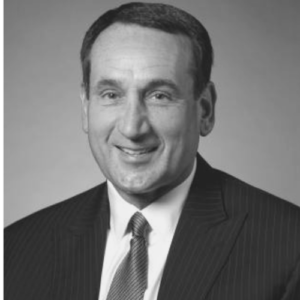 American Basketball Coach
Mike Krzyzewski, also called Coach K,  is an American college basketball coach who amassed the most coaching victories in National Collegiate Athletic Association (NCAA) Division I men's basketball history while leading the Duke University Blue Devils to five national championships (1991, 1992, 2001, 2010, and 2015) and 12 Final Four (championship semifinals) berths.
As a high-school basketball player, Krzyzewski led Chicago's Catholic League in scoring for two years. He played collegiately at the United States Military Academy (Army) under legendary coach Bob Knight. He coached service teams and the U.S. Military Academy Prep School for five years, then was Knight's assistant at Indiana University for one season before Army hired Krzyzewski in 1975.
He was a surprising selection in 1980 to coach Duke—on Knight's advice—and his career there began shakily with no recruits in 1981 and a combined record of 21–34 the next two seasons. But Krzyzewski's fourth Duke team, in 1983–84, went 24–10 and began a streak of 11 consecutive seasons with at least 20 victories and NCAA tournament berths. He led the Blue Devils to five consecutive Final Fours between 1988 and 1992, the second longest such streak in NCAA history. Included in that run were the school's first two national championships, coming in 1991 and 1992. The second championship-winning team went 34–2 and was the top-ranked team in the country for the entire season.
The Blue Devils reached the national championship game again during the 1993–94 season but lost to the University of Arkansas. Duke went 13–18 the following season as Krzyzewski missed 19 games due to back surgery, and the Blue Devils failed to participate in March Madness for the first time since 1982–83. Krzyzewski guided Duke to increasingly better tournament finishes over the next four years, ending in another national championship game berth in 1998–99, where the Blue Devils were defeated by the University of Connecticut. Duke returned to the final in 2000–01, beating the University of Arizona to win its third title. In 2005 Krzyzewski won his record 66th career NCAA tournament game. He became the fourth NCAA Division I coach to garner 800 career victories in 2008, and two years later he directed Duke to the school's fourth national championship. In 2011 he won his 903rd career game to pass Knight as the winningest coach in Division I history. In 2014–15 Duke went 35–4 and captured a fifth national title under Krzyzewski.
In addition to his collegiate coaching success, Krzyzewski led the U.S. men's national team to gold medals at the 2008, 2012, and 2016 Olympic Games and at the 2010 and 2014 world championships (known as the World Cup for the 2014 iteration). He was inducted into the Naismith Memorial Basketball Hall of Fame in 2001.
For speaker enquiries, contact Pendulum Speaker Bureau on +353 1 685 3370.