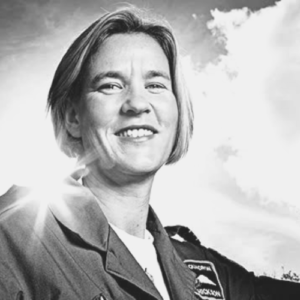 One of the UK's First Female Fast-Jet Pilots
Flying a multi-million pound fighter jet in hostile territory is not an everyday career, and comes with a high degree of pressure and responsibility. It's a dream job that takes years of ambition, training and commitment but, for Mandy Hickson, it was a dream that became reality. Find out about Mandy's incredible journey to become one of the UK's first female, fast-jet pilots and how she overcame many obstacles to develop the skills to succeed in such a demanding career. 
Mandy's route to the top was tumultuous in every sense – awarded a RAF flying scholarship at 17, long before she even passed her driving test, she went on to win aerobatic competitions whilst still a student. However, despite her prowess in the skies, she failed the computer-based tests, taken by all potential RAF pilots. Undeterred, her self-belief and dogged determination persuaded the RAF to take her on as a test case, thereby overcoming seemingly insurmountable hurdles. 
Mandy relates her experiences of working within an elite team of fast jet operators with great clarity, outlining how the same values apply within any environment. She demonstrates only too well the importance of remaining calm under pressure and leading, quite literally, from the front, in order to get the best from herself and her team. 
Since leaving the RAF Mandy has served as a school governor, on the board of trustees at the Victory Services Club, London and is an ambassador for sport for Hampshire County Council. 
For speaker enquiries, contact Pendulum Speaker Bureau on +353 1 685 3370.