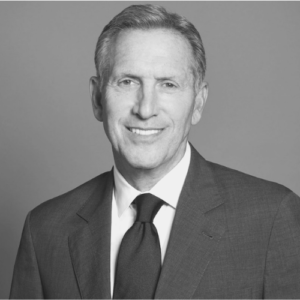 American Businessman, Author, Former CEO & Chairman Of Starbucks
Howard Schultz is an American businessman who served as CEO (1987–2000, 2008–17) of Starbucks, a coffeehouse chain that he helped transform into a worldwide presence.
Schultz was a communications graduate (B.S., 1975) of Northern Michigan University. He joined the Seattle-based Starbucks in 1982 as director of retail operations and marketing and became chairman in 1985. Inspired by a 1983 trip to Italy, where he discovered that Milan alone boasted 1,500 coffeehouses, Schultz envisioned turning a tiny regional operation into a national coffeehouse chain via rapid store expansion. In 1985 he founded Il Giornale, a coffee concern that in 1987 (with investor backing) purchased Starbucks. Under Schultz's guidance, in four years the coffeehouse chain grew from fewer than 20 stores to more than 100. In 1992 he took the company public, and by the end of the decade, Starbucks had some 2,500 locations in about a dozen countries.
Schultz announced in 2000 that he was stepping down as CEO but would remain as chairman. By 2007 the chain boasted more than 15,000 locations worldwide but was foundering, and in January 2008 Schultz returned as CEO. He oversaw the closure of 900 stores and implemented an ambitious strategy to secure new avenues of growth, which included acquisitions of a bakery chain and the makers of a coffee-brewing system as well as the introduction of an instant-coffee brand. He also oversaw changes to menu offerings at Starbucks stores. These moves were largely successful, and by 2012 Starbucks had rebounded financially. Five years later Schultz again stepped down as CEO, though he continued to be active in the company, serving as executive chairman until 2018.
From 2001 to 2006 Schultz was majority owner of the NBA's Seattle SuperSonics; he drew much local criticism after selling the team to a group that subsequently moved it to Oklahoma City. His books included Onward: How Starbucks Fought for Its Life Without Losing Its Soul (2011; with Joanne Gordon).
Howard Schultz recently released his new book From the Ground Up: A Journey to Re-imagine the Promise of America in 2019 where it received praise from the likes of Bill Gates and Serena Williams.
"Howard Schultz's story is a clear reminder that success is not achieved through individual determination alone, but through partnership and community. Howard's commitment to both have helped him build one of the world's most recognized brands. It will be exciting to see what he accomplishes next."—Bill Gates
"From the Ground Up will resonate with anyone who knows what it's like to overcome adversity. Howard Schultz's dream to make the world more fair and welcoming for everyone is truly a breath of fresh air."—Serena Williams