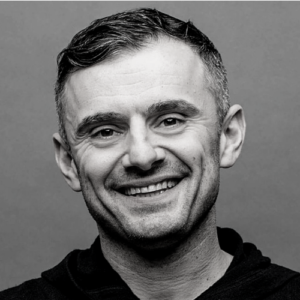 Businessman, 5-time New York Times Bestselling Author & Public Speaker
Following his family immigrating to the US from Belarus in 1978. Gary lived with 8 family members in a studio apartment in Queens, New York, before relocating to Edison, New Jersey. Gary often calls himself a "purebred entrepreneur" having successfully started a lemonade franchise at age 7, and eventually selling tens of thousands of dollars worth of baseball cards and toys throughout his high school career. At 14 he joined his family business bagging ice for $2/hr. When Gary identified "the internet" as a land-grab opportunity in the late 90's he transitioned his father's local liquor store (then named "Shoppers Discount Liquors") into one of the first e-commerce platforms for alcohol in the country resulting in explosive top-line growth. Renaming the business to "Wine Library," Gary grew his father's company from $3-60MM in sales during his tenure at Wine Library.
Gary Vaynerchuk is now the chairman of VaynerX, a modern-day media and communications holding company and the active CEO of VaynerMedia, a full-service advertising agency servicing Fortune 100 clients across the company's 4 locations.
In addition to VaynerMedia, VaynerX also includes Gallery Media Group, which houses women's lifestyle brand PureWow and men's lifestyle brand ONE37pm. In addition to running VaynerMedia, Gary also serves as a partner in the athlete representation agency VaynerSports, cannabis-focused branding and marketing agency Green Street and restaurant reservations app Resy.
Gary is a board/advisory member of Ad Council and Pencils of Promise, and is a longtime Well Member of Charity:Water.
Gary is a highly sought after public speaker, a 5-time New York Times bestselling author, as well as a prolific angel investor with early investments in companies such as Facebook, Twitter, Tumblr, Venmo, and Uber.
Gary is currently the subject of DailyVee, an online documentary series highlighting what it's like to be a CEO and public figure in today's digital world, as well the host of The GaryVee Audio Experience, a top 100 global podcast, and host of #AskGaryVee, a business and advice Q&A show which can be found on both YouTube and Facebook.
Gary also appeared as judge in Apple's first original series "Planet of the Apps" alongside Gwyneth Paltrow, Jessica Alba and Will.i.am.
For speaker enquiries, contact Pendulum Speaker Bureau on +353 1 685 3370.