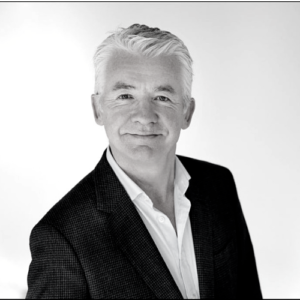 Change Management, Culture & Customer Service Expert
With over 30 years of experience from the board room to the front line, Alan O'Neill – The Change Agent – has supported iconic brands to achieve amazing results. In a dynamic world, he knows what it takes to drive change in a business – from top to bottom… and back to front. It's about having a Customer-centric Culture, Engaged People, and a Supercharged Sales effort. 
Change is all about people and culture and one sector in particular that has probably seen more disruption than any other is retail. Alan's expertise & involvement in the Selfridges story is one that resonates across all industries. Alan was the lead consultant that navigated Selfridges through the significant change of 'bricks only' to 'clicks and bricks'. Up to 2004, Selfridges was a sleeping giant – but is now officially the best department store in the world… and one of the most profitable. 
It is this unrivaled business acumen that has seen Alan chair and speak at conferences around the world and conduct master-classes with C-Level executives. He asks hard and uncomfortable questions, e.g. Should you refresh your culture to prepare for emerging global challenges? How will you overcome cynicism and resistance to change? How do you overcome complacency and lack of accountability? How will you differentiate with a customer-experience culture? How do you retain the best talent? How do you increase sales in a challenging and disruptive global market?
Alan will adapt his countless stories, business models and real-life case studies in his specialist topics…and with every engagement, Alan takes time to understand the brief, the objectives, the challenges… and builds empathy before meeting his audience. Energetic, passionate and engaging… he will leave your audience with thoughts & ideas that are guaranteed to provoke, inspire and give hope.
Topics
Get Ready for the New World of Retail
Retail is changing rapidly and becoming even more complex. As an industry, it has probably seen more disruption than almost every other sector. The advancing perfect storm of ferocious on-line competition; changing customer expectations and the infiltration of digital into traditional stores – is a new dynamic. For traditional retailers, coping with that is an ongoing challenge.
From food to fashion, luxury to mass, big box to multiple site, and travel retail to the high street, Alan has supported many iconic retailers over 20 years. He will reveal to you the secrets of their success in a way that you can learn from and adapt for your business.
Three times winner of the award for being the best department store in the world… and one of the most profitable (per m²), Selfridges in particular is an amazing success story. Alan was the lead consultant that navigated Selfridges through significant change from 'bricks only' to 'clicks and bricks'. Alan can share his insights and how he supported them to achieve their ambition.
And even if you're not a retailer, it's a sector that every business can relate to and learn from because of their sense of urgency, their focus on the customer and of course their commercial savvy.
Premium is the New Black
Based on Alan's new Book "Premium is the New Black", the key principle at the core of this engaging keynote is how to ensure your customers have consistently great experiences – making them more likely to buy from you repeatedly and become strong advocates for your brand.
Customer service drives sales. While that is obvious, we don't all do it. In this economic and fast changing environment, many organizations are struggling to differentiate with product – in the way that they might have done in days gone by. The clever ones however, realize that they can differentiate by ensuring their customers have an amazing experience; they Customerize their Business! 
In a time where traditional business models collide with new-world digital and omni-channel strategies, excellence in customer experience is the new battleground. We all want the same thing… we want customers to buy today… to come back again… and to refer us to a friend. Great customer satisfaction is the key driver of that. 
Attendees will learn:
The real bottom-line commercial benefit of having a customer-centric culture

How your industry is changing and what excellence means for your unique business

Tools and concepts to enable you to differentiate from your competition, the very next day

How to overcome pitfalls to deliver consistency at every customer touch point
Alan is passionate about customer service. He will show you how to develop a culture of great service from the board-room to the front-line, by putting the customer at the heart of all decision-making in your organization. He knows that customer service has to be practical and drive sales – and it requires a fully engaged workforce. In his charming and engaging style, he will challenge you with examples, evidence and case studies to help you achieve consistency. Ultimately this will motivate your people into action to increase your sales.
High-Performance Culture
Fast-track your business results with a customer-centric, high-performance culture.
If as Peter Drucker says, "culture eats strategy for breakfast" – then it's time to set the table! With a great culture and an engaged workforce, you can take on the world. Others might copy your strategy – but no one can copy your culture. Because culture is about mindset, attitudes and behaviors. It's the software of the mind! 
Strategy guides you on what you will do… structure defines who will do it… but it is your culture that determines how you will do it. Too often, organizations miss this, yet it is the golden thread that binds it all together. If you want to fast-track your business results with proven culture concepts, you need to renew your ideal culture. 
Attendees will learn:
Where culture fits in to your big picture… what it is, why it's important, how it's measured

What it will take to achieve a high-performance culture for your organization

Best culture practices to achieve high engagement with millennials and all ages

How to avoid pitfalls in culture renewal

How leadership, values and processes will shape a more productive team – that is working as one

How to deliver excellence at every customer touch-point, consistently
Alan will share practical and proven best practices that will guide you to refresh your culture – and that help to greater customer experiences and supercharged business results.
Dare to Change
How to overcome resistance to change and embrace it as a new norm.
Change is the new reality and it's coming at you in many ways. It might be prompted by external forces, such as technological, economical, sociological or even political. But make no mistake – your suppliers, competitors, customers and your own people are changing too. 
Alan knows what it takes to drive and to own the change in a business. Across numerous industries, he has facilitated and led many large blue-chip companies through change, overcoming natural resistance along the way.
Alan will show you the practical and proven steps to navigate change. He will share best practices and outline practical strategies for managing change.
Attendees will learn:
To understand the drivers of change unique to your industry

Understand why people resist change and techniques to overcome it

The pitfalls in managing change, with leadership techniques and best practices to adapt

The importance of collaboration and communication in engaging your teams
Testimonials
"We in the motor industry believe that we can learn a lot from the world of retail. Alan made that clear." – SVP, Mercedes
"We've invited Alan to speak on several occasions. If I had to do them all over again – I'd call Alan." – Marketing Director, FMCG, UK
"What impressed me about Alan was how much he knew about the estate agency business and how tailored the presentation was to our needs." – Director, Sherry Fitzgerald
"Alan delivered the Supercharge your Sales presentation to our full management team of 35 managers. It was a great boost at the start of our peak season. He challenged us to re-look at ourselves in a very different light and we needed that." – Commercial Director, Gleneagle Hotel Group
"Alan is very commercial and gave practical, sound advice that truly inspired and motivated our people." – CEO, Dubai Refreshments
"We put it up to Alan to deliver a keynote that would really help our members be more professional. He was excellent and we want now want to roll it out to our members." – Director, VFI
"Alan, your keynote was excellent – it was pitched and presented just right and got the conference off to a great start." – Donnie Tantoco, Rustan Commercial Corporation and Board Member of APRCE
"As a public service institution, Customer Service is a priority for us. Alan inspired us with his commercial stories and showed how they'd work for us too." – HR Director, ECHA 
For speaker enquiries, contact Pendulum Speaker Bureau on +353 1 685 3370.